30 of the best gluten-free, meat/seafood, and vegan/vegetarian meal prep power bowls! These make great lunches & dinners, & all can be customized!
Fall is officially here, and that marks the start of a crazy busy schedule for so many families!
Even though I don't have a school-aged child, fall is always busy for me, too. This year is no exception, because we're moving to a new city in a few days, and I've barely had time to cook.
On top of all that, it's time to start getting ready for the holidays, and I'm so not ready!
Eating healthy during these crazy times is not always easy, and I totally applaud those who can make time to cook healthy dinners when they have a million other things to do.
For those of you like me, who need easy meals to put together, this post is for you. 30 of the healthiest make-ahead power bowl recipes all in one place!
What is a power bowl?
Power bowls are balanced, ultra-nourishing meals that are simple to prepare ahead of time. They can include grains, meats, seafood, veggies, beans, and sauces in pretty much any combination!
They are sometimes referred to as "Buddha bowls", which refers to the rounded nature of a nutritional packed bowl (similar to Buddha's round belly).
Either way, they are versatile, and can be eaten for breakfast, lunch, or dinner, and make great make-ahead meals for busy families! Plus, they are completely customizable, so you can throw in whatever your kids will eat and leave out all the stuff they won't!
How do you make a power bowl?
Start with a grain like quinoa, brown rice, or farro.
Add lean protein like chicken, turkey, salmon, tuna, beans and/or tofu.
Top with lots of fiber-packed produce such as broccoli, avocado, carrots, spinach, roasted sweet potato, cabbage, kale, squash, bell pepper, or cauliflower.
Add extra toppings! These could be sauces, dressings, yogurt, cheese, micro greens, hummus, pesto, sunflower seeds, almonds, fresh herbs, lemon slices, lime wedges, green onions, or sesame seeds.
Power bowls are completely versatile and customizable, but if you're unsure where to start, here are 30 delicious power bowl recipes sorted into plant-based, gluten-free, and meat/seafood categories!
Plant-Based Power Bowls
Fall Harvest Buddha Bowl – A seriously satisfying plant-based bowl, this fall harvest Buddha bowl with creamy cashew apple cider dressing is the perfect grounding dinner to comfort you on a chilly fall night. – Kara Lydon Nutrition
---
Vegan Buddha Bowl – Roasted vegetables, farro, spinach, warm spices, and toasted chickpeas, a drizzle of tahini dressing, this vegan Buddha bowl is so delicious and super healthy! – Hoorah to Health
---
Vegetarian Burrito Bowls – Loaded with veggies, spices and some guacamole, this sweet potato burrito bowl is a great vegetarian option if you're looking for something tasty. – Chisel and Fork
---
Kale & Quinoa Power Salad – Nothing says power like kale and quinoa in this power bowl salad! – Kaitlin Williams Eckstein MPH, RD, LD at Rebecca Bitzer & Associates: A Dietitian for Every Condition
---
Fall Harvest Energy Bowl – This power bowl has the energy and nutrients to keep you satisfied and the flavors and textures to get you excited for your meal. By building together different plants, this bowl also has enough quality plant protein for those with high activity levels. – Plant based sports dietitian, Kelly Jones, MS, RD, CSSD
---
Sheet Pan Spicy Sriracha Vegan Bowl – This spicy Sriracha sheet pan veggie bowl is packed full of veggies and plant based protein. It's a great way to use up veggies and is loved by meat eaters and vegans alike. – Cass Clay Cooking
---
30 Minute Vegan Buddha Bowl – Incredibly delicious and immensely satisfying, this protein-packed Vegan Buddha Bowl with Sweet Potatoes and Quinoa is easy to throw together, perfect for meal prep, and ready in 30 minutes or less! This bowl features an epic Lemon Miso Tahini Dressing, and the whole bowl is super easy to customize. – Zardy Plants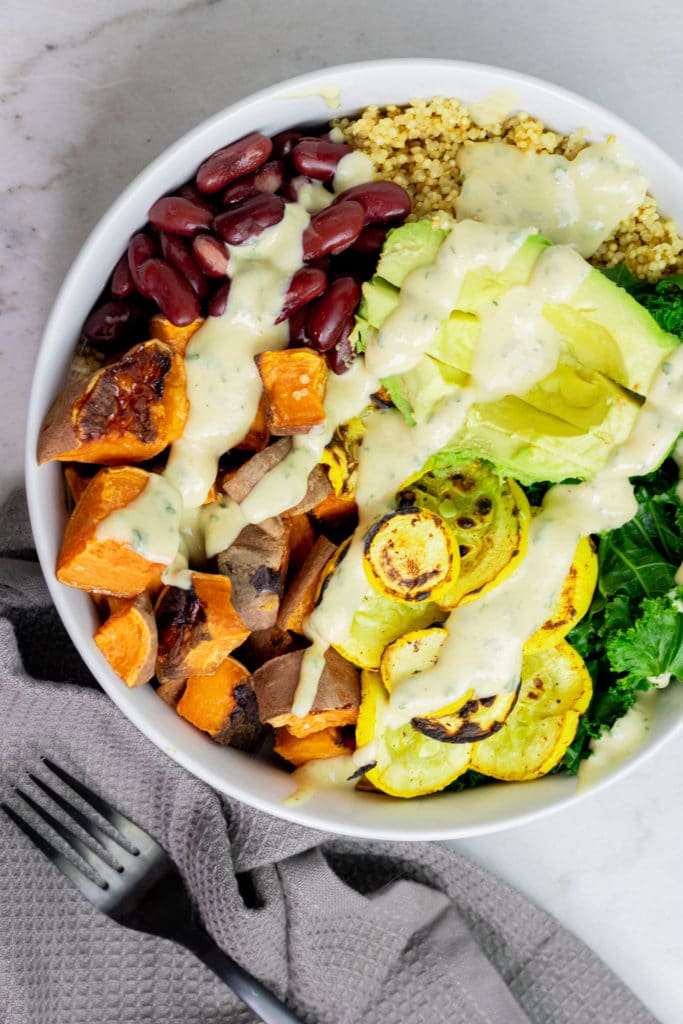 ---
High Protein Vegan Sushi Bowls – These vegan sushi bowls are packed with a rainbow of colors and plenty of plant-based protein! Top with a delicious and simple sweet soy ginger sauce for a boost of flavor. – Nicole Stevens, MScFN, RD
---
Mediterranean Gyro Bowl – Save time with this bowl! Prep and store ingredients ahead of time plus incorporate some store-bought ingredients for a delicious, time-saving bowl. –Amanda Izquierdo, MPH, RD, LDN
---
Teriyaki Bowl w/Tofu – Sustain My Cooking Habit
---
Spicy Chickpea Power Bowls – Spicy chickpea power bowls come together in just 30 minutes and make a great staple healthy weeknight meatless meal! – Leanne Ray, MS, RDN
---
Quick & Easy Veggie Burrito Bowl – This Veggie Burrito Bowl recipe is simple to prepare and super healthy. Perfect for meatless Monday dinners or meal prep lunches! – Erhardts Eat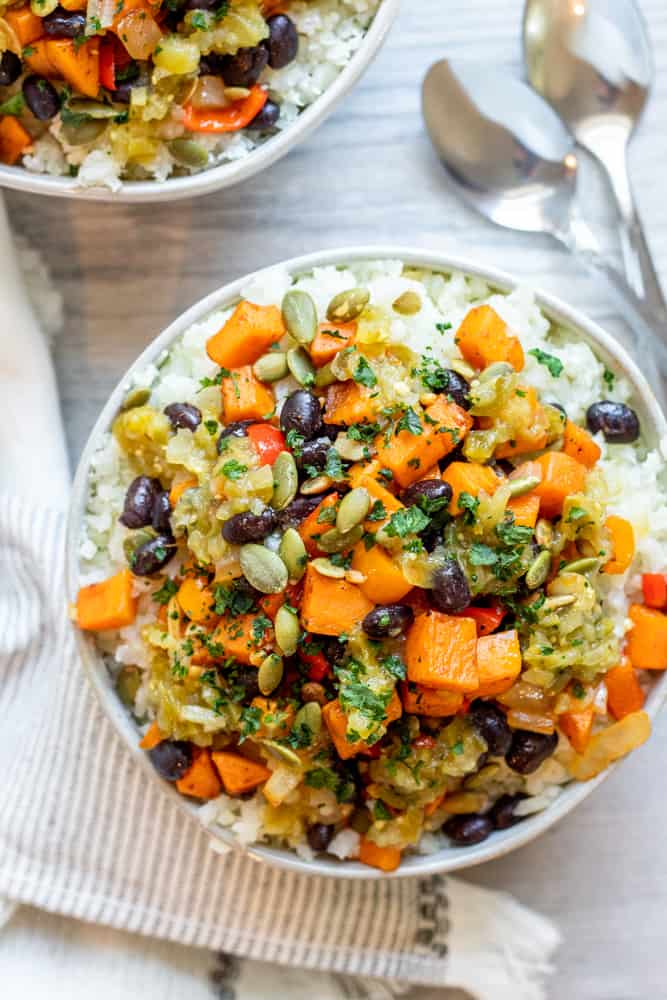 ---
Veggie Breakfast Bowls – Roasted mushrooms, tangy cilantro lime quinoa, eggy tofu scramble, lots of fresh vegetables, and a dollop of salsa make up this delicious veggie burrito bowl! Meal prep this easy to make vegan breakfast in advance so you can eat healthy breakfasts all week long! – Stacey Homemaker
---
Gluten-Free Power Bowls
Mediterranean Style Crispy Tofu Buddha Bowls – Switch up your meatless Monday routine and learn how to make this healthy Crispy Tofu recipe – Mediterranean style. It's unbelievably easy to pull off, and trust me when I say, you'll want to make it again, and again. – Shahzadi Devje, RD
---
Roasted Sweet Potato & Cauliflower Power Bowl – This Power Bowl is full of savory roasted veggies, complemented by black beans and quinoa. A bowl full of plant protein, whole grains, and plenty of flavor! Gluten-free and can easily be made vegan. – Your Choice Nutrition
---
Pistachio Turmeric Rice Power Bowl – This rich, gold and green Pistachio Turmeric Rice Power Bowl is vegan, and gluten-free—plus it's bursting with flavor and nutrition. – Sharon Palmer, RDN
---
Mexican Burrito Power Bowl – Is it a power bowl? A Buddha bowl? A burrito bowl? Yep. Yep. Yep. Whatever you call it, you're spooning into a bowlful of flavorful Mexican foods 3 ways – Registered dietitian Judy Barbe, author of Your 6-week guide to LiveBest
---
Tropical Smoothie Bowl – This Tropical Smoothie Bowl Recipe is the perfect breakfast or snack! It's dairy-free, gluten-free, full of protein and fresh fruit and totally delicious. Satisfying and easy to make, too! – Yummy Healthy Easy
---
Savory Chia Oats Bowl – A hearty creation for those who prefer multitude of flavors to tantalize the taste buds. Easy and quick recipe with InstantPot and stove top instructions included. Vegan, Glutenfree and WFPB Compliant. – Profusion Curry
---
Meat/Seafood Power Bowls
Slow Cooker Carne Asada Bowls w/Mango Sauce – This slow cooker carne asada recipe is easy & delicious, and marinades as it cooks! The mango sauce is spicy sweet, perfect for tacos or carne asada bowls! – The Oregon Dietitian
---
Orange Salmon Protein Bowls – Supercharge your lunch or dinner with this Orange Salmon Protein Bowl Recipe. With a base of whole grains, roasted asparagus, and an easy orange sesame dressing to top, it's a tasty and energizing meal you can count on to power you through your day. – Mae's Menu
---
Cuban-Style Tuna Meal Prep Bowls – A healthy meal prep recipe in a pinch! These Cuban-Style Tuna Meal Prep Bowls are gluten-free, paleo, and perfect for a well-rounded lunch! With plantain chips, fresh veggies, jalapeno tuna, and a zesty dairy-free yogurt, you'll be powering through that midday slump! – Strength And Sunshine
---
Maple Glazed Salmon Buddha Bowl – Drizzled with maple tahini, topped with rice, beans & roasted veggies is a delicious gluten-free lunch or dinner on the go. – Monica Nedeff, RDN, LD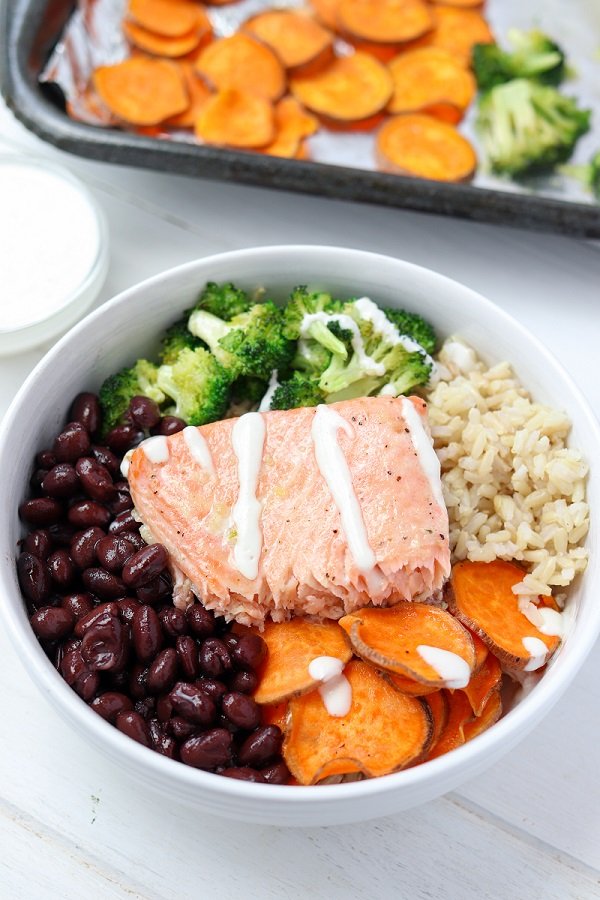 ---
Shrimp & Quinoa Power Bowl – An easy lunch or dinner, this quinoa power bowl is packed with protein and fiber to keep you energized for hours. It's simple to make, delicious to eat, and makes great leftovers, so you can cook once and eat all week long. – Sarah Gold Anzlovar, MS, RDN, LDN, owner of Sarah Gold Nutrition
---
DIY Nourish Bowls – These nourish bowls are so easy to make because you can mix and match whatever ingredients you have on hand! They're delicious and a great way to reduce food waste! – Colleen Christensen Nutrition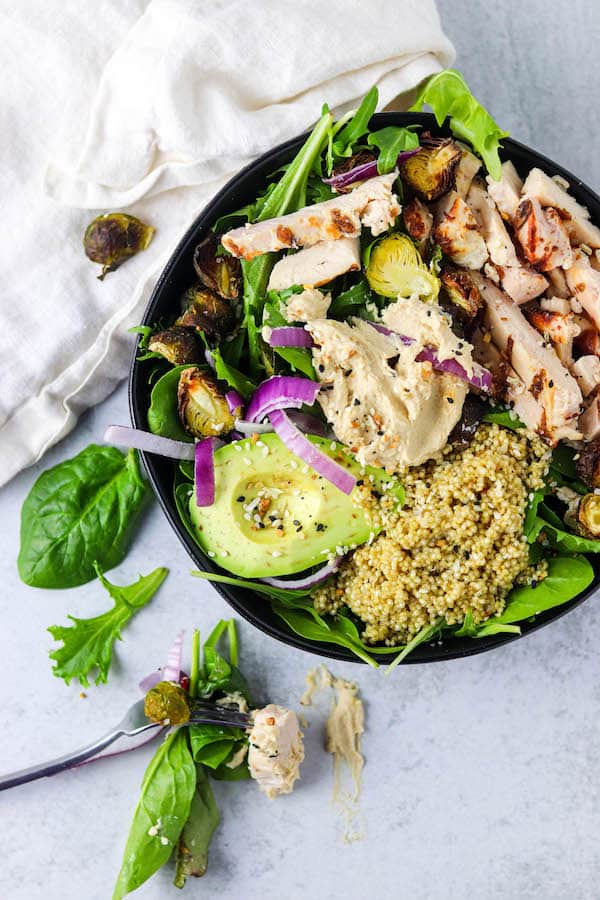 ---
Low Carb Chicken Fajita Rice Bowl – Keto Focus
---
Chicken Burrito Bowl Recipe – Welcome to my Slimming World Chicken Burrito Bowl Recipe via the Instant Pot. Delicious succulent chunks of chicken with a spicy Mexican marinade served with a comforting salad. – Recipe This
---
Grilled Chicken Burrito Bowl – Chicken Burrito Bowl that's loaded with tender, marinated and grilled chicken, brown rice, black beans, lettuce, corn, avocado, cheese, green onions, cilantro, tomatoes, salsa and a ranch taco sauce. So fresh, delicious and healthy! – Yummy Healthy Easy
---
Quinoa Bowl w/Apple & Feta – This easy Quinoa Bowl features sweet potatoes, arugula, diced apple, feta, roasted pecans then topped with honey dijon vinaigrette for an amazing, healthy meal. – To Simply Inspire
---
Buffalo Chicken Quinoa Bowls – Joyful Healthy Eats
---
Pin me for later!
Power bowls are really versatile and can be altered and customized however you want! It also lets the pickiest of eaters choose what goes into their meal, which is definitely a win!
Which of these power bowls are you most excited to try? Comment below!
xoxo Megan